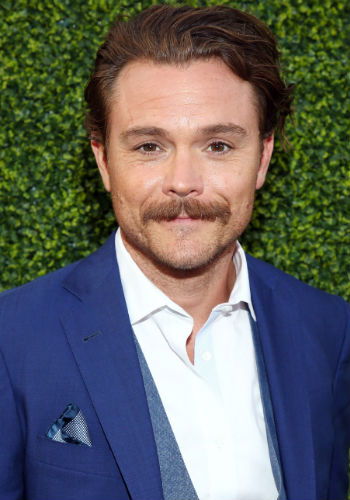 Clayne Crawford
Date Of Birth
April 20, 1978
Age
45 years 5 months 5 days
Day of Birth
Thursday
Place Of Birth
Clay, Alabama, United States
Zodiac Sign
Taurus
Professions

Director

, Actor ,

Producer

Birth Name
Joseph Crawford
Nickname

Joey

Other Names

William Westhoven

,

Joey Crawford
Personal Information
Residence

Los Angeles, California, United States

Religion
Christianity
Language
English
Nationality
American
Ethnicity
Caucasian
Complexion
White
Trademarks
Mustache , Gravelly voice

Body Features & Measurements
Height

183 CM


6 Feet 0 Inches
Eye colors
Blue , Hazel
Hair colors
light brown , Black
Weight

80 KG


176 lbs

Tattoos
Left Shoulder (Crown)
Amen on Left hand
Right Wrist
Body Type
Athletic
Chest size
42
Biceps Size
14
Family Information
Father

Brian Crawford

Mother
Lennie Crawford (Lennie Aldridge Crawford, originally from Trussville, Alabama)
Sons

Hicks Crawford


Colt Crawford (Colton Crawford)
Wife
Sunshine Kiki Brown (2004-; Sunshine Kiki Brown Crawford)
Daughter
Abby Brown (Stepdaughter/ adopted)
Sister
Connie Crawford (Connie Benson)
Nephew
Josh Benson
Brother In-Law
Bryan Benson
Grandmother
Betty Aldridge (Maternal)
Relatives
Melissa Aldridge
Sue Wilson Crawford
Day Crawford
Sarah Crawford
Vic Aldridge
Daniel Crawford
Shelby Jayne Stricklin

Education Qualifications
Education
The Ardavany Approach (Acting school)
Education (High School)
Hewitt-Trussville High School (Jefferson County, Alabama)
Alma Mater
University of California (Los Angeles)
Career Information
Debut (Movie)
One Blood Planet (2001)
Years Active
1997-
Debut (TV)
Buffy the Vampire Slayer (1997)
Favorites, Hobbies, Likes/ Dislikes
Hobbies
Boating
Fishing
Favorite Actors
Gary Oldman
Sean Penn
Brad Pitt
Favorite Sport
Baseball
Favorite Director
The Coen brothers
Social Networks, Web links
Twitter Profile
Clayne Crawford Twitter Profile
Instagram Profile
Clayne Crawford Instagram Profile
Contact
Talent Agent
Agency for the Performing Arts L.A.
More Information
Friend
Christian Kane
Mentor
Tom Ardavany
Net worth

$3 Million
Biography
Clayne Crawford is an American actor, director, producer, Singer and Writer known for playing roles- Dean in A Walk to Remember(2002), Martin Riggs in Lethal Weapon, Brick Oodie in The Baytown Outlaws, Grady Lee Jr. in Tinker', Ted Talbot Jr. in Rectify, Cade Lambert in NCIS: New Orleans, Danny Chetowski in Rogue, Ray Cargill in The Glades, Thad in Above Ground(2017), Joey in While We Were(2016), Sgt. Toll in Spectral(2016), Charlie in Warrior Road(2016), Ben in Convergence(2015), Mason in A Fighting Season, Brick Oodie in The Baytown Outlaws(2012) among other roles.
Clayne Crawford was born on 20th April 1978 in Clay, Alabama, United States to Brian Crawford(father) and Lennie Crawford(mother).
Clayne Crawford Relationships
Sunny Mabrey(2001-2002): Clayne and actress Sunny (known for xXx: State of the Union, Snakes on a Plane) dating back in the early 2000s, they were engaged to be married in 2002, but broke it up later and separated
Angie Cole: Angie is an American actress who has worked in the movie A Good Knight's Quest (2010). The couple dated from January to June
Sunshine Kiki Brown: Sunshine is a shoe designer, Sunshine and Clayne got married in 2004. The couple have 2 children Hicks Crawford and Colt Crawford. Sunshine's oldest daughter Abby Brown is part of the family, Abby was 4 when Clayne and Sunshine met, Clayne adopted her.
Video: Clayne Crawford Lethal Weapon lethal weapon interview
Clayne Crawford: Facts & Trivia
Clayne: His birth name was Joseph, he took the name Clayne in honor of his homeland Clay and his grandfather Clan
Interest in acting: Clayne was on a visit to Los Angeles, he got interested in a girl who was acting in a play, a guy on that play got sick and Clayne was asked to try the role as it was a minor one. It got Clayne interested in the art of acting.
Move to Los Angeles: Clayne moved to Los Angeles right after High School in 1996 to seek a career in Hollywood
Clayne's son Colton (Colt) appears in the movie Tinker'(2018) along with him, Clayne had produced that movie as well. The movie was shot in Clayne's hometown Clay, Alabama. Clayne's home was used in some of the scenes as well.
Sunny & Sunshine: He was engaged to Sunny (Mabrey) but got married to Sunshine (Kiki Brown)
Alabama Farm: Claynes owns a farm in Alabama, he lives there with his wife and children
Construction worker: Until landing in good enough acting opportunities Clayne used to work in the construction industry
Lethal Weapon: TV adaption of the movie series proved to be a big breakthrough for him, it is interesting that he had turned down the role many times before accepting it. He revealed that he was afraid of taking the role because it was previously played by Mel Gibson.
He presented the Teen Choice Awards 2016
The Ardavany Approach: He attended acting classes at the "The Ardavany Approach", actors Matt Gerald & Josh Holloway studied with him
Clayne Crawford Foundation: a community based organization that supports causes of Children, Women, Veterans. You can donate to the cause here.
Clayne was fired from Lethal Weapon in 2018, it is believed that Seann William Scott will be replacing him (but as a new character Wesley Cole). It is believed that the constant clashes between crew and Clayne lead to this. Clayne complained of the substandard safety issues on the sets, while the crew complained of his anger. He never got call from Warner Bros. about the firing. The Rift between Damon Wayons and Clayne was another big reason, it is believed. Damon had complained of Clayne multiple times. They were both caught verbally abusing each other in an audio tape.
Anger management: Clayne was angry at a crew member during the shooting and had paid half of his salary for the episode as penalty, he was taking anger management classes for 6 weeks every afternoon. The crew had the video of Clayne shouting angrily and used it to blackmail him (his version). He was accused of shouting at the children, while Clayne maintains that he was shouting at the manager whose job it was to quiet the stage.
Bullies Keep Out LLC: Clayne took a stand against bullying and supports the anti-bullying foundation BulliesKeepOut LLC
Clayne's eldest son Colt was born with an eye problem and 3 fingers in his right hand.
He has a pet dog named Leon.
Tyler Robinson Foundation: Clayne supports TRF.com, an organization which helps fight childhood cancer
Don't Trash the Stache: a campaign Clayne was part of the campaign that was held to support TRF(Tyler Robinson Foundation)
Sports: He was into football, wrestling and baseball in High school. He played baseball until he endured a knee injury which forced him to quit.
He is a fan of Dalai Lama, he often retweets his quotes.
Clayne has appeared on numerous TV programs as a guest, among them are:

Hellblazerbiz
Celebrity Page
Live! with Kelly
Access Hollywood Live
The Talk
Quotidien
The Real
Extra
Moving Pictures Live!
Ready Aim Fire
Journey Into the Unknown

Young Hollywood Awards: He was honored with "One to Watch Male" award at the 2013 Young Hollywood awards
He auditioned for the role of Cole Ortiz in the series "24" he pleasantly landed into the role of Kevin Wade, a recurring role rather than a guest role
Clayne Crawford haircut: Clayne as a unique haircut to go with his unique mustache.
Clayne Crawford: Career
TV Debut: Clayne appeared as Rodney Munson in the fantasy comedy series "Buffy the Vampire Slayer", he was a teenager at that time.
Movie Debut: One Blood Planet(2001): 2001's horror thriller directed by Jerry Decker was Clayne's first movie debut, he played Cady in it.
As director: Clayne as directed various projects like short films, TV movie, TV series and movies. Among them are- Trust(2005), The Barnes Brothers(2007), Kingshighway(2010), Darnell Dawkins: Mouth Guitar Legend(2010), and episode of Lethal weapon.
As a producer: Clayne has produced Tinker'(2018), The Lachrymist(2014), Baby(2010), The Barnes Brothers(2007)
Clayne performed for the song "She'll Be Coming Round the Mountain" from the TV series Jericho
He wrote the story for the short movie Trust(2005)
Clayne Crawford: Quotes
[About living in Alabama] I have lived in L.A and Alabama back and forth, when I had my children, L.A didn't look like the place to raise the children, so I moved back to Alabama.
What is wrong with bullying is that bullying leads to more bullying.
Bullying can be quite extreme, people take single person and break them continuously.
Love is Love, never judge another individual.
Children these days are very accepting, these it on TVs these days, they are accepting of interracial marriages, two men holding hands and so on. It is Moms and Dads who make them rigid.
[About mobile phone] I f**ing hate the device.
Every day is a new day! Get up and do something
[About the sour Lethal Weapon incident] I don't blame Damon, the leadership failed us.
[His statement on the incident] I absolutely love, respect and care for my crew and cast, and would never intentionally jeopardize so many jobs. I am incredibly sorry if my passion for doing good work has ever made anyone feel less than comfortable on our set, or feel less than celebrated for their efforts. Furthermore, I apologize to all the crew and cast for any negative attention Lethal Weapon is receiving because of these incidents.
I'm drawn to acting simply because it gives me the opportunity to explore human emotion without the consequence
His lessons for acting: Focusing on the craft is very important, don't let ego get involved, focus on the process, give your heart to it, show up everyday
If you just focus on the work and try to be a professional, the work will always be there.
I don't want people to get bored of me. I want to play a little bit of everything
I'm a small town guy from Alabama, I'm not a Hollywood guy.