Biography
Jennifer Katharine Gates is the Equestrian champion, actress and the first born daughter of Billionaire Entrepreneur Bill Gates (William Henry Gates III) & Melinda Gates (Melinda Ann French)- a philanthropist & Entrepreneur.
Jennifer Gates was born on 26th April 1996 in Bellevue, Washington, United States.
Jennifer is the eldest of the three children of Bill Gates and Melinda Gates, the Children of Gates couple are:
Jennifer Katharine Gates (born in 1996)
Rory John Gates (born in 1999)
Phoebe Adele Gates (born in 2002)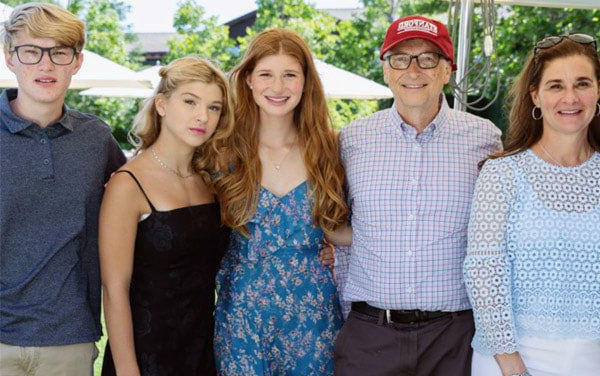 Image: Jennifer Gates family: Father Bill, Mother Melinda, Sister Phoebe & brother Rory
Jennifer Gates & Nayel Nassar: Jennifer is an equestrian herself, she is in love with the Egyptian American equestrian Nayel Nassar. Both Jennifer and Nayel Nassar are Stanford graduates. Nayel graduated with a degree in Economics & Management. Nayel represented Egypt in the 2012 London Olympics. Jennifer toured Cairo with Nayel in the end of 2018 as well as Kuwait where Nayel was raised.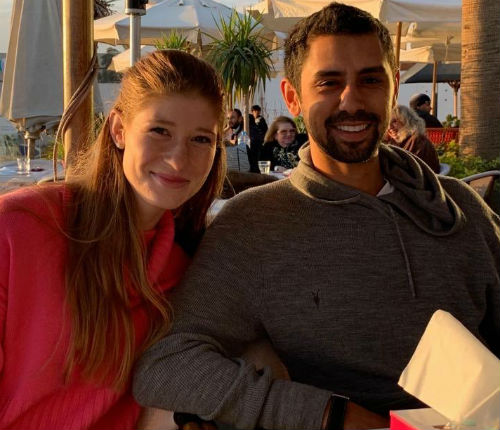 Image: Jennifer Gates with her boyfriend Nayel Nassar
Nayel was born on 21st January 1991 in Chicago, Illinois, United States to Egyptian American parents.
Jennifer Katharine Gates Facts & Trivia
Equestrianism: Jennifer has practiced horse riding as a hobby as well as a professional sport. She is believed to have started horse riding early in her career. She recently attended Longines Global Champions Tour. Her family has built a practice field for her in Wellington, Florida. She was 14 when she realized she wanted ted to focus on show jumping as a competitive sport, so that she could go to Olympics.
Ethnicity: Gates kids are of English, German, Irish and Scottish descent.
Top rider: She is often ranked within the top 20 among the 1000s of jumpers in the United States Equestrian Federation Rankings.
Jennifer Katharine Gates Horses: Some of the horses she rides are named- Alex, Cadence, Cody, Fluffy, Kicks, Lucifer, Luftikus, Monaco, Oaks and others.
Jennifer and Nayel competed at the Global Champions League competition in the couple's event for the 'Paris Panthers' team. They both participated individually at the World Cup Qualifier in November 2018. Nayel finished 1st while Jennifer finished 6th.
Gym: She loves gym, spends a lot of time there, she regularly hits a private gym in Washington.
Stanford University: She graduated with a degree in Biology from the Stanford University.
Residence: she lives at the family home located on the shores of Lake Washington, Seattle, Washington.
EQUUStar: she supports the 'EQUUS Foundation', a foundation that helps keep horses safe.
Ride for Our Lives: She participated in the event which was organized to strengthen voices against gun violence in schools.
Brooke USA: She participated in the 2018 Sunset Polo and White event held in Wellington, Florida to rise funds fro Brooke USA
Earl: Jennifer has a pet dog named Earl. He has his own instragram page, check it out. Earl accompanies Jennifer and nayel in their travels around the world, they fondly call him Schnearl or Twirl.
Evergate Stables: The stables of Gates family, looked after and owned by Jennifer is called Evergate Stables
Gates children were not allowed to use mobile phone till they were 14, even as they complained that their peers had a mobile phone of their own by that age.
Jennifer started her first social media profile on Instagram at the age of 19
She studied at the Lakeside School, a private high school. She made into High Honors Roll at her school, meaning she has a GPA of more than 3.75 at least.
She will be joining Medical School in 2019, she has taken time off from studies to continue with her Equestrian career.
Some of the competitions she has participated in are:

Brussels Stephex Masters
Global Champions Tour of Miami Beach
Live Oak International
Longines Global Champions Tour
Longines Masters Speed Challenge
New York Masters
National Horse Show
U25 Grand Prix

She likes Dolphins.
She gave her dad Bill Gates a funny nickname- selfie king.
She wore Teeth braces as a kid.
The family had a pet dog named Oreo, she grew up snuggling him for comfort.
She represented USA in the Nations Cup of Samorin
#TalkToMe: Jennifer interviewed her mom Melinda Gates for Huffington post in 2017 for an episode of #TalkToMe series
Rachael Leigh Cook: There is a confusion among the websites on the internet, they are publishing pictures of model Rachael Leigh Cook as that of Jennifer Gates.
Vehicles: She is believed to own Porsche Turbo, Bugatti Veyron cars and a Bombardier bd-700 private jet.
She practices Mediation before competing.
Video: Jennifer interviewing mom Melinda Gates
Jennifer Katharine Gates Quotes
Reading has continued to be a huge hobby that keeps me grounded and teaches me about different perspectives
There's nothing better than losing track of time and devouring a good book.
Horses are a huge passion for me [but I'm passionate about education as well
Early 20s are great time to explore, love reading, travelling..
Buy Jennifer Katharine Gates products on Amazon


Photos/ Pictures