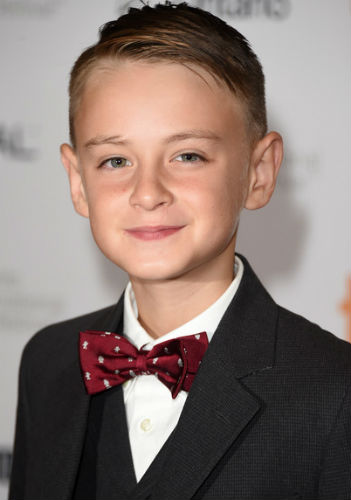 Jaeden Martell
| | |
| --- | --- |
| Date Of Birth | January 4, 2003 |
| Age | 20 years 2 months 27 days |
| Day of Birth | Saturday |
| Place Of Birth | Philadelphia, Pennsylvania, United States |
| Zodiac Sign | Capricorn |
| Profession | Actor |
| Full Name | Jaeden Wesley Lieberher |
Personal Information
Religion
Christianity
Language
English
Star Sign
Capricorn
Nationality
American
Ethnicity
Multiracial
Complexion
White

Body Features & Measurements
Height

170 CM


5 Feet 7 Inches
Eye color
Blue
Hair color
Black
Weight

55 KG


121 lbs

Body Type
Average
Family Information
Father
Wes Lieberher (executive chef)
Mother

Angela Martell

Brothers

Sydney Lieberher




Ocean Lieberher

Sister

Jovi Lieberher

Grandmother
Chisun Martell

Career Information
Debut (Movie)
St. Vincent
Years Active
2013-
Debut (TV)
American Dad!(2015)
Salary
$100k (It(2017)) , $250k (It Chapter two(2019))
Debut(Short movie)
Grief(2013)
Favorites, Hobbies, Likes/ Dislikes
Favorite Food
Sushi
Likes
Avengers Infinity war
Social Networks, Web links
Twitter Profile
Jaeden Martell Twitter Profile
Instagram Profile
Jaeden Martell Instagram Profile
More Information
Net worth

$1 Million- $5 Million
Biography
Jaeden Martell is an American actor. Jaeden is known for his roles as- Bill Denbrough in It(2017), Bill Denbrough in It Chapter two(2019) and Johnny Masters in "Masters of Sex"
Recently he has appeared in "Defending Jacob" as Jacob Barber, in "Knives Out" as Jacob Thrombey as well as in "Tunnels"
Childhood - Family
Jaeden Martell is an young American actor born on 4th January 2003 in Philadelphia, Pennsylvania to Wes Lieberher(Father), Angela Martell(Mother). He grew up in South Philadelphia. His family moved to Los Angeles in 2011, he was 8 years old at the time.
Father
Jaeden's father Wes Lieberher is an executive chef. He was born in Philadelphia, Pennsylvania on April 1st 1979. He has worked with "Beer Belly and Whiz" in Los Angeles as their executvie chef [2]. He has appeared on various cooking TV shows, such as- "Food Paradise" (Travel Channel), "Diners, Drive-Ins, and Dives" (Food Network), "Knife Fight" (Esquire Network), "The Taste" (ABC)
He is also a lead vocalist in the band "Kill Verona". Chris Margarite, Jon Hunt, Paul Butterly, Rafael Henin are other members of the Rock band.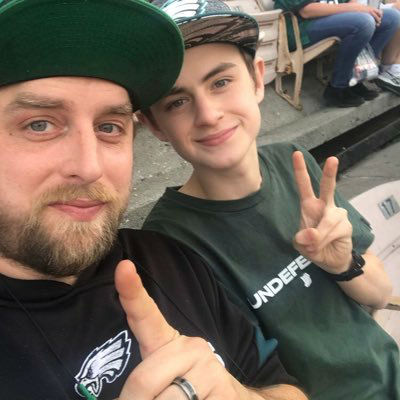 [ Jaeden Martell & father Wes Lieberher ]
Mother
Angela Teresa Martell is the mother of Jaeden Martell. Angela is the daughter of Korean woman Chisun Martell.
Angela, the proud mother of the teen said this to PhillyVoice about her son- "To think about all that he has experienced and accomplished in the last five years, yet still remains so humble and sweet makes me very proud."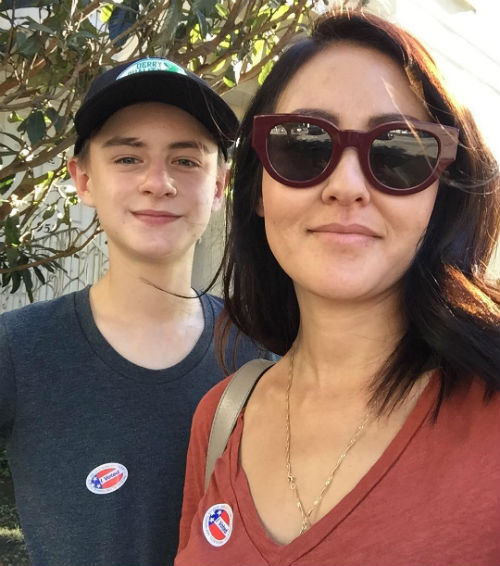 Image: Jaeden Martell with his mom Angela Martell
Siblings
Jaeden is the oldest of 4 children of his father Wes Lieberher, Wes Lieberher is married to Bree Lieberher. Jaeden is raised by his mother, he is her only child.
He has two younger brothers in Ocean Lieberher & Sydney Lieberher, A sister in Jovi Lieberher (youngest of the 4)
Education
Independence Charter School: Jaeden attended the ICS school in South Philadelphia until he was 8 years old.
Girlfriend - Dating
Jaeden hasn't had an official announcement on his dating life yet, he is very young and understandably so. However there have been a few rumours and link ups. We do not know how much truth is there in these speculations, we leave it up to you to judge.
Jaeden Martell & Lilia Buckingham
Jaeden and actress Lilia Buckingham (of "Crown Lake", "Total Eclipse" ) are rumored to be dating since 2018. Lilia posted a picture of the two on Valentine's day in 2018. The two are said to have broken up.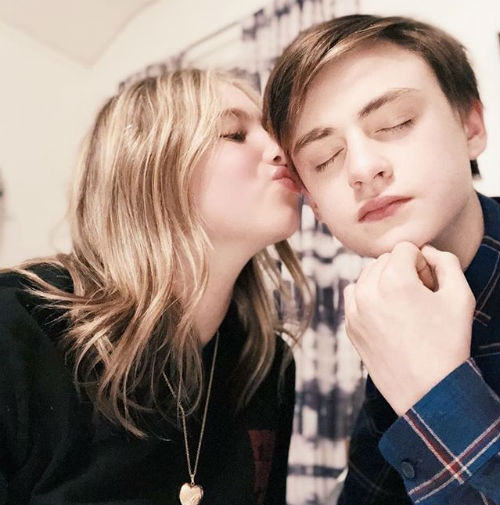 [ Jaeden Martell & Lilia Buckingham ]
Jaeden Martell & Maddie Ziegler
Jaeden and American dancer & Model Maddie Ziegler are rumored to have dated in 2017. They have appeared together in the movie "The Book of Henry"
[ Jaeden Martell & Maddie Ziegler ]
Interesting Facts
Commercials: Jaeden's career started at the age of 8 when he started appearing in commercials.
is first TV appearance was on 2013 'Hyundai Santa Fe Super Bowl' commercial where he beat up bullies with his buddies.
In 2014 he appeared on 'The Ellen Degenres Show', it was his first ever talk show and a huge one at that.
Ancestry: He is quarter part Korean by descent from his mother's side. He is also of English, Belgian (Walloon), Scottish, French-Canadian, Irish, German, French. [3]
He went through 6 auditions before getting the role in St. Vincent.
Bill Murray taught him meditation during their time together as co-stars on "St. Vincent"(2014), Jaeden affirms it helped him relax. Bill Murray recommended Jaeden for a role in Cameron Crowe's 2015 film Aloha.
He is a good artist as well.
Outdoors man: He likes backpacking and touring.
Marian Anderson summer camp: He would always go to Marian Anderson for summer in South Philadelphia after school. [5]
Baseball: He played baseball in Philadelphia, he was coached by coach Steve. As per his own admission, he was not very good at the sport. [5] He is a Philadelphia Phillies supporter [6]
Popularity
With Rising popularity, Merchandises are using Jaeden's pics and autogrpahs to sell to the fans in customized formats.
Jaeden Martell phone case: Customized phone cases with Jaeden's pictures on them are selling like hot cakes on Redbubble.
Jaeden Martell Autograph: There are copies of Jaeden's autographs available on amazon for sale.
Jaeden Martell name change
Jaeden was previously known as Jaeden Lieberher until later part of 2019, he has changed his name post 2019 to Jaeden Martell, "Martell" is his mother's maiden name. Perhaps the idea is to make his last name sound easier for the American audience. Lieberher was indeed difficult to pronounce.
[ Katherine Langford & Jaeden Martell Interview ]
Career
Debut: Jaeden made his debut in movies at the age of 9 in Grief(2013) as a child, it was a short movie. Playing it With cool(2014) marked his big screen debut.
An year later came the movie St. Vincent(2014) which made him familiar to the masses, he portrayed the role of Oliver Bronstein in it. He received 5 nominations and 2 wins for his role in St. Vincent(2014). His role as Bill Denbrough in It(2017) in the lead role earned him both popularity and critical acclaim.
He has also appeared on TV shows and series, his notable appearances are in American Dad!(2015), Masters of Sex(2015–2016), "Defending Jacob" (2020-)
Commercials
Hot Wheels: Jaeden's first acting gig was in a commercial for the American toy company "Hot Wheels".
After his initial success, Jaeden got chance to act in variety of top brand adverts, some of the commercials he has appeared in so far are:
General Electric
Google
Hyundai (for the product "Santa Fe", it was aired during 2013 Super bowl)
Liberty Mutual (insurance company)
Moneysupermarket.com (British price comparison website)
Verizon Fios (TV & Telephone service)
It(2017) & It chapter two (2019)
Jaeden played the lead character "Bill Denbrough" in the children's horror movie It(2017), it was based on Stephen King's novel. Jaeden plays a youth who along with his friends fight an evil clown. He is the leader of the gang nicknamed "Losers club". Bill's character has stuttering in the movie, Jaeden practiced watching youtube videos and the movie King's speech on how to stutter effectively and naturally.
Bill Skarsgård, Jeremy Ray Taylor, Sophia Lillis, Finn Wolfhard, Wyatt Oleff, Chosen Jacobs, Jack Dylan Grazer, Jackson Robert Scott also played main roles in the movie.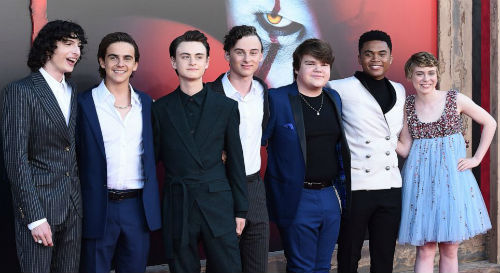 [ Jaeden Martell & castmates ]
Filmography
Movies List
| Year | Movie | Character | Comments |
| --- | --- | --- | --- |
| 2020 | Tunnels | | |
| 2019 | Knives Out | Jacob Thrombey | |
| 2019 | It Chapter Two | (young) Bill Denbrough | |
| 2019 | The True Adventures of Wolfboy | Paul | |
| 2019 | Low Tide | Peter | |
| 2019 | The Lodge | Aidan | |
| 2017 | It | Bill Denbrough | |
| 2017 | The Book of Henry | Henry Carpenter | |
| 2016 | The Confirmation | Anthony | |
| 2016 | Midnight Special | Alton | |
| 2015 | Aloha | Mitchell | |
| 2014 | Playing It Cool | 6 Year Old Me | |
| 2014 | St. Vincent | Oliver | |
TV Series List
| Year | Series | Character | Comments |
| --- | --- | --- | --- |
| 2020- | Defending Jacob | Jacob Barber | Lead role; Apple series |
| 2015-2016 | Masters of Sex | Johnny Masters | Recurring; 11 Episodes |
| 2015 | American Dad! | (voice) | My Affair Lady (Season 10 Episode 9) |
Short Movies List
| Year | Series | Character | Comments |
| --- | --- | --- | --- |
| 2016 | Framed: The Adventures of Zion Man | Walter | |
| 2013 | Grief | The Child | |
Awards
| Year | Won? | Award | Project | Category | Comments |
| --- | --- | --- | --- | --- | --- |
| 2018 | WON | MTV Movie & TV Awards | It(2017) | Best On-Screen Team | |
| 2015 | Nomination | Online Film & TV Association | St. Vincent | Best Youth Performance | |
| 2015 | Nomination | Critics' Choice Movie Awards | St. Vincent | Best Young Actor | |
| 2014 | Nomination | Washington D.C. Film Critics Association | St. Vincent | Best Youth Performance | |
| 2014 | WON | Phoenix Film Critics Society Awards | St. Vincent | Best Performance by a Youth | |
| 2014 | WON | Las Vegas Film Critics Society Awards | St. Vincent | Youth in Film | |
Quotes
[His wish to mothers on Mother's day] Happy Mother's Day to the strongest type of human. We'd be nowhere without you all [4]
Sources