Biography
Glenn Howerton is an American TV & Movie actor, director, songwriter & producer. Glenn is popular for playing Dennis Reynolds in 'It's Always Sunny in Philadelphia', Ernie Krinklesac in The Cleveland Show, Mike in The Strangers (2008), Lilac Tough in Serenity(2005), Doctor in Crank(2006), Jack in A.P. Bio, Cliff Gilbert in The Mindy Project, Seth Buckley in House of Lies, Don Chumph in Fargo, Dr. Nick Cooper in ER, Corey Howard in That '80s Show.
Glenn Howerton was born on 13th April, 1976 in Japan to American parents- Glenn Franklin Howerton Jr.(Father)- a fighter pilot placed in Japan at that time & Janice Howerton (Mother). Becaues of his father's work he grew up in Alabama(USA), Montgomery, London(England) & South Korea.
Glenn Howerton & Jill Latiano Marriage: Glenn met actress Jill while they were working together on one of the episodes of 'It's Always Sunny in Philadelphia'. The couple got engaged in February 2008. They got married on 8th September 2009.
The couple have two children, two sons- Miles Robert Howerton(born in 2011) & Isley Ray Howerton(born in 2014)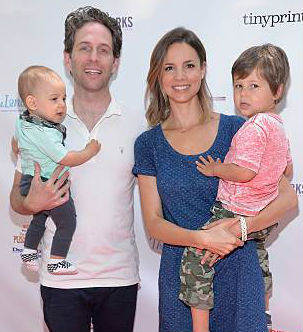 Image: Glenn Howerton Family: Wife Jill Latiano & sons- Miles Robert & Isley Ray
Glenn Howerton: Education
High School: He went to High school mostly at Jefferson Davis High School in Montgomery, Alabama.
Bachelor of Arts: He finished a two year course at the New World School of the Arts in Miami, Florida in Arts.
Bachelor of Fine Arts: Glenn attended Juilliard School in Manhattan, New York City where he graduated in Drama. He was in the class of 1996-2000
Glenn Howerton: Facts & Trivia
His family moved to Alabama from South Korea when he was 10 years old.
His dime sized pink nipples were the matter of talk when he was on Conan's show on TBS back in 2012. They revealed a 'It's a;ways sunny i Philadelphia' mug with Dennis on it, apparently the T-shirt disappears when hot water is poured into the mug, a fitting tribute to the character Dennis who likes to pop the shirt often.
Alabama Shakespeare Festival: Glenn started acting in plays with the festival
Aeronautical engineering: When he was about get into graduation he had to decide between becoming an Aeronautical engineer and an actor, he chose the latter.
Charlie Day & Rob McElhenny: He met the two in New York, they became friends soon and contemplated a work together which eventually became It's always Sunny in Philadelphia
Dennis of 'It's always Sunny in Philadelphia': Both Charlie & Rob chose to use their names for the respective characters on the show, Glenn thought He had an unlikable name and chose not to use his name.
Voice Actor: Glenn has voiced characters on many shows, including- TripTank, Family Guy, The Cleveland Show, Unsupervised, Glenn Martin DDS, American Dad!
Ancestry: Glenn is of- English, French, German, Irish, Russia, Scottish descent. From his mother's father's side he is Ashkenazi Jew.
Writing: Glenn started writing script for the episodes in It's always sunny in Philadelphia. He has written more than 25 episodes.
Over the years Charlie Day, Rob & Glenn have grown to become very close friends.
He speaks 4 languages.
He did some odd jobs before the break on TV like- working at Chic Fil A(Alabama), Selling meat door to door, Working in an aluminium factory.
He worked as a bellman at the Hudson Hotel in New York City
His Twitter bio reads- 'The Golden God of Twitter'
Glenn's paternal grandfather Glenn Howerton Sr. was a Fighter pilot who fought in the world war 2. Glenn's father Glenn Howerton Jr. was also a Fighter pilot.
He has been critical of Donald Trump
He has appeared on shows of- Conan O'Brien, Kevin Pollak, Carson Daly, Spike Feresten
Glenn Howerton: Quotes
[On his son Miles] My wife and I thought it would be a good idea to wait to see the baby first before we decided on his name, to get a sense of the guy you know, Then we saw him and he looked like a tiny little baby alien grandpa & I was like, ''I am not getting any information from this at all.'
I was one of those strange people who loved school.
I'm really bad at writing jokes.
I take my work very seriously, and that's the only way for it to be fun for me.
Dennis is a great outlet for my really weird sense of humor.
I do legs every day. I never want to be that top heavy guy at the gym. Very unhealthy.
'Goddamnit' is just super fun to say. I don't know why. God made it that way for a reason, I suppose.
Hey just a quick reminder: if you wear too much perfume, f**k you.
I always look tired.
Net neutrality is an extremely important rule keeping the internet a level playing field. Otherwise, giant companies can pay for more speed
Filmography
Glenn Howerton: Filmography
Movies
Officer Downe(2016): He portrayed the role of Dominic in the Comedy movie directed by Shawn Crahan , it has Tyler Ross, Kim Coates, Meadow Williams in the main roles.
Coffee Town(2013): Glenn was Will in the movie directed by Brad Copeland with actors- Steve Little, Glenn Howerton, Ben Schwartz playing the lead characters.
Everything Must Go(2010): He played Gary in this Comedy Drama movie directed by Dan Rush starring Rebecca Hall, Christopher Jordan Wallace, Will Ferrell in the lead.
Crank: High Voltage(2009): Glenn Howerton was a Doctor in this Thriller directed by Brian Taylor, Mark Neveldine starring Amy Smart, Clifton Collins Jr., Jason Statham in the lead.
The Strangers(2008): He portrayed the role- Mike in this movie directed by Bryan Bertino with Scott Speedman, Gemma Ward, Liv Tyler in the lead.
Crank(2006): He played the role of a Doctor in this movie , it was directed by Brian Taylor, Mark Neveldine , it has Amy Smart, Carlos Sanz, Jason Statham in the lead cast.
Two Weeks(2006): He played Matthew Bergman in the Comedy Drama movie directed by Steve Stockman , cast included Sally Field, Julianne Nicholson, Ben Chaplin
Must Love Dogs(2005): He portrayed Michael in the Romantic Comedy movie directed by Gary David Goldberg starring Elizabeth Perkins, Diane Lane, John Cusack in the lead.
Serenity(2005): He played the character- Lilac Tough in this Adventure movie directed by Joss Whedon with the cast Chiwetel Ejiofor, Gina Torres, Nathan Fillion
E.D.N.Y.(2003): Glenn Howerton portrayed the character of Paul Webster in the TV Drama directed by Anthony Drazan , cast included William Baldwin, David Cubitt, Anne Bedian
Monday Night Mayhem(2002): He played the role- Dick Ebersol in the Drama directed by Ernest Dickerson , cast includes John Heard, Kevin Anderson, John Turturro
TV Series
A.P. Bio(2018): He acted as Jack in the Comedy Series with Lyric Lewis, Mary Sohn, Glenn Howerton in the lead.
House of Lies(2016): He acted as Seth Buckley in the Comedy Drama TV Series created by Matthew Carnahan with the cast of Don Cheadle, Kristen Bell, Ben Schwartz
TripTank(2015): He acted as Congressman Rothbard in the Comedy Series with stars- Eric Magnussen, Dana Snyder, Jonah Ray in the main roles.
On the Record with Mick Rock(2015): He worked as the executive producer of the series
All the Wilderness(2014): He was an executive producer on the show
Fargo(2014): Glenn was Don Chumph in this Crime Thriller Drama Series starring Billy Bob Thornton, Martin Freeman, Allison Tolman in the lead.
Family Guy(2014): He voiced a character in the series
The Mindy Project(2013): He portrayed the role of Cliff Gilbert in the Comedy TV Series created by Mindy Kaling, starring Ed Weeks, Mindy Kaling, Ike Barinholtz in the lead.
Unsupervised(2012): He acted as Clint in the Comedy series, cast included Kristen Bell, David Hornsby, Justin Long. He was also a producer of episodes on the show.
Glenn Martin DDS(2009): He portrayed the role of Starfinder in the Comedy Series created by Alex Berger, Michael Eisner, Eric Fogel with actors- Kevin Nealon, Judy Greer, Catherine O'Hara playing main roles.
The Cleveland Show(2009): He portrayed Ernie Krinklesac in this Comedy Series , cast included Mike Henry, Kevin Michael Richardson, Sanaa Lathan
American Dad!(2009): He covied a small role in the series
ER(2003): He portrayed the character- Dr. Nick Cooper in this Romantic Drama Series starring Julianna Margulies, Anthony Edwards, George Clooney in the main roles.
It's Always Sunny in Philadelphia(2006-): Glenn Howerton portrayed the character of Dennis Reynolds in this Comedy series, cast included Glenn Howerton, Rob McElhenney, Charlie Day. Glenn has performed in many songs. He has written, directed and produced episodes on the show.
That Was Then(2002): He acted in the role of Noah Benjamin in the Drama Series starring James Bulliard, Tyler Labine, Kiele Sanchez in the lead.
The Job(2002): He acted in the role of a Young Guy in the Series with the cast Diane Farr, Lenny Clarke, Denis Leary
That '80s Show(2002): Glenn Howerton was Corey Howard in this Comedy created by Mark Brazill, Bonnie Turner, Terry Turner, starring Glenn Howerton, Chyler Leigh, Tinsley Grimes in the main roles. Glenn also performed in the soundtracks as well.
Others
Bare Knuckle Fight Club(2017): He produced the tv documentary
When Pigs Fly(2017): He portrayed Uncle Al in the Fantasy short movie directed by Andrew Wood with - Glenn Howerton, Gavin Lewis, Jayden Bartels in the lead.
Living Loaded(2012): He produced the Comedy TV movie with- Mike Vogel, Donald Sutherland, Sugar Lyn Beard in the lead.
Happy Cabin Song(2011): A short movie he acted in
How to Be a Gentleman(2011): He was a producer on the show
Boldly Going Nowhere(2009): He wrote and produced the tv movie.
Happy Wednesday(2008): He played the character of Spencer Scott in the Comedy Drama directed by Jason Naumann with Glenn Howerton, Mindy Sterling, Tony Hale in the lead cast.
Glenn Howerton: Photos, Pictures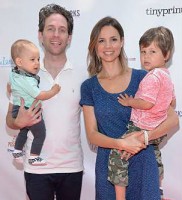 Glenn Howerton Family: Wife Jill Latiano & sons- Miles Robert & Isley Ray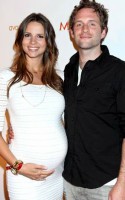 Glenn Howerton with (pregnant) Wife Jill Latiano