Biography
Ethan Cutkosky is an American TV/ Movie actor. He is popular for his role as Carl Gallagher in the Black Comedy/ Dramedy Shameless(2011-).
Ethan Cutkosky was born as Ethan Frances Cutkosky in Saint Charles, Illinois on 19th August, 1999 to David Cutkosky(Father) a software engineer & Yvonne Cutkosky(mother) a teacher, he grew up in Chicago Illinois, he studied in Chicago.
He is rumoured to have a girlfriend in Brielle Barbusca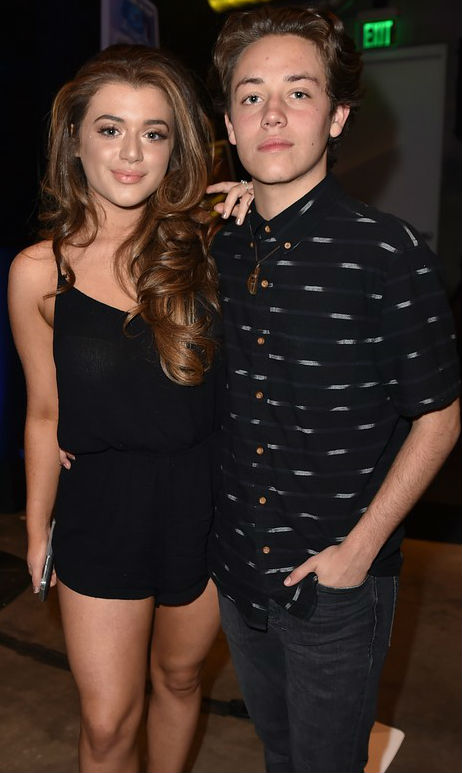 Image: Ethan Cutkosky with his girlfriend Brielle Barbusca
Career
Ethan's career began at the age of four when he started appearing in Ads (Ad for Walgreens). He has also appeared in commercials such as- American Family Insurance, Devos Children Memorial Hospital, Z Group Films.
He has appeared in Print ads like- Alter Image Photography, Black Box Studio, Bright Start, Essanay Studios, Houghton Mifflin Company, McDonald's, Power Point Presentations, Print Ad Novo 7, Quarasan Group, Scott Foresman,
Ethan's career in movies started at the age of 7 in Vince Vaughn's movie Fred Claus(2007) in the role of Carl. He eventually acted in movies like- The Unborn(2009), Conviction(2010), Betty Ann Waters
Ethan has appeared in recurring role in the TV series Shameless(2011-), for which he has been most popular, he appears as one of the main character 'Carl Gallagher'. He has made guest appearance in Law & Order: Special Victims Unit(2013) as well.
Ethan Cutkosky- Interesting Facts
Ethan's acting/ modelling career began at the age of 4. He was a hyper active child, his parents were just looking for something to engage in him, they tried photography which turned into modelling for commercials and then movies, TV series and so on.
Ethan loves animals and has various pets, a black cat named 'Bear', crested gecko named 'Colby', anoles, fire bellied toad among them.
Ethan got the nick name 'One Take Barto' for taking just one take in most scenes during the filming of the movie 'The Unborn' with Gary Oldman where he acted in the role of Barto
Ethan has a black belt in the Martial art form- Taekwondo.
His Mom is 100% Mexican.
When he can't go to school he has a tutor who teaches him 4 hours a day and some hours on the sets.
Halloween is his favorite holiday, he likes to scare people & do characters that scare people.
He tweeted #notmyrodrick showing his disappointment towards the change of actor in the new Diary of a wimpy Kid movie.
He is interested in Metaphysics.
He has black belt in Tae-kwon-do.
He was a cub scouts member.
Ethan is a very social person and favorite among friends.
Ethan Cutkosky Quotes
I don't see myself as an actor, I want to go to work and come back to hang out with friends
The way an individual can perceive one thing in so many ways is interesting
S**t will still hit right at home even if you didn't know them
Ignorant people are cute
As long as we don't choose anything is possible
Enter my mind you won't come out sane.
One day I'm going to touch the sky
Sorry. I'm a leader. Not a follower.
You want to get lost? Come to my mind.