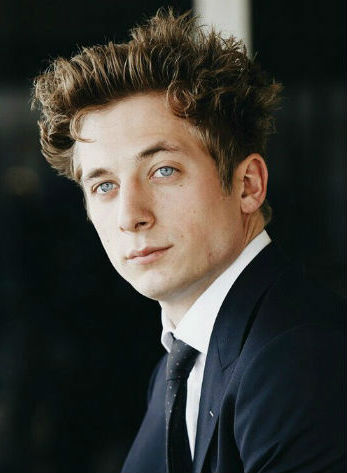 Jeremy Allen White
Date Of Birth
February 17, 1991
Age
32 years 1 months 14 days
Day of Birth
Sunday
Place Of Birth
Brooklyn, New York, United States
Zodiac Sign
Aquarius
Profession
Actor
Other Names

Jeremy White

,

Jeremy
Personal Information
Religion
Christianity
Language
English
Nationality
American
Ethnicities
White , Caucasian
Famous For
Shameless
Sun Sign
Aquarius
Body Features & Measurements
Height

170 CM


5 Feet 7 Inches
Eye color
Blue
Hair color
Brown
Weight

82 KG


181 lbs

Body Type
Athletic
Chest size
39
Waist Size
31
Biceps Size
14
Family Information
Wife

Addison Timlin

Daughter

Ezer Billie White

Grandfathers
Allen Jesse White (paternal)
Henry Julius Zeigler (Maternal)
Grandmothers
Ellen Vasilivna White (paternal; Ellen Vasilivna Lisovitch)
Darris Eloise Ivey (Maternal; Doris Eloise Ivey)
Body Build
Average
Education Qualifications
Education
Frank Sinatra School of the Arts
Education(School)
Elementary School
Love, Romance, Marriage
Girlfriend
Emma Greenwell
Favorites, Hobbies, Likes/ Dislikes
Favorite Movie
The Lion King
Social Networks, Web links
Facebook Profile
Jeremy Allen White Facebook Profile
Twitter Profile
Jeremy Allen White Twitter Profile
Instagram Profile
Jeremy Allen White Instagram Profile
More Information
Net worth

$3 Million
Biography
Jeremy Allen White is an American film and TV actor. Jeremy Allen White is most known for playing Lip Gallagher in the comedy drama series Shameless, Kevin in Movie 43(2013), Robert Uva in Rob the Mob (2014), Bobby in Bad Turn Worse (2013)
He has recently worked in "You Can't Win", "The Rental", "Viena and the Fantomes", "Homecoming" & "After Everything" and others.
Childhood - Family
Jeremy Allen White was born on February 17, 1991 in Brooklyn, New York, United States.
Jeremy's parents are former actors who had moved to New York City to study theater and pursue an acting career. They had met each other during stage performances, they decided to get married after years of working together on the stage. The two had given up on acting and had sought better paying jobs after the family grew. It must make the parents proud to see their child live their dream.
Jeremy's mother is from North Carolina.
Jeremy has a younger sister.
Education
When Young Jeremy was not that into school. "I wasn't a big fan of school and wouldn't go very often" says Jeremy . He talked to the Dean of his High School to let him work in the casting office of the school in New York for half a day every day.
He would attend the academic classes in the morning and then run to ' Susan Shopmaker Casting' on the 38th street, 8th avenue to work there for the rest of the day. In fact he got his role in 'After School' through Susan shopmaker, Jeremy thanks her for the exposure to acting he got at the Casting office. [3]
Frank Sinatra School of the Arts: Jeremy attended the Arts school for six months, he however discontinued after getting to play roles on TV
Marriage- Wife
Jeremy Allen White & Addison Timlin
Actress Addison Timlin & Jeremy met on the sets of "Afterschool" as teenagers (The movie was nominated at the 2008 Independent Spirit Awards). Addison plays Hillary Clinton in the 2018 indie film called "When I'm a Moth"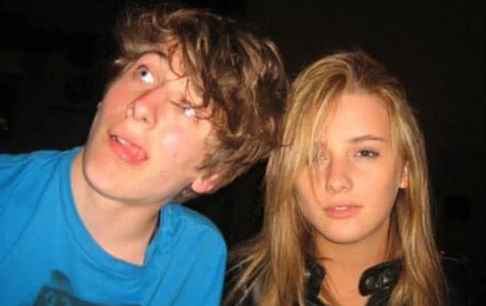 [ young Jeremy Allen White & Addison Timlin ]
They had been friends for a long time before becoming romantically involved.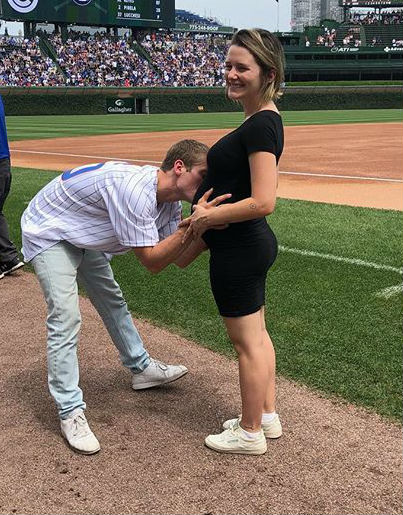 [ Jeremy Allen White & Addison Timlin announce pregnancy ]
Addison became pregnant with their first child in the early 2018. Jeremy & Addison had a daughter- Ezer Billie White born on the 20th of October in 2018.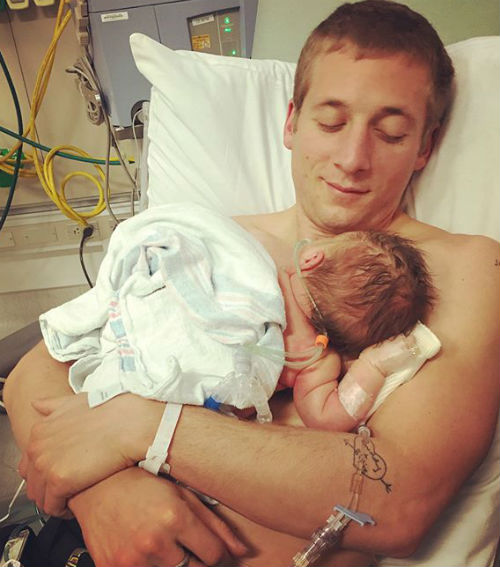 [ Jeremy Allen White with daughter Ezer Billie White ]
The two got engaged on 14th April 2019.
Wedding: The two got married in a Beverly Hills courthouse (about an year of having their daughter) on 18th October 2019. The event was attended by their common friend, actress- Dakota Johnson & popular band Coldplay's Chris Martin. And the biggest attraction at the event was of course their daughter Ezer Billie White.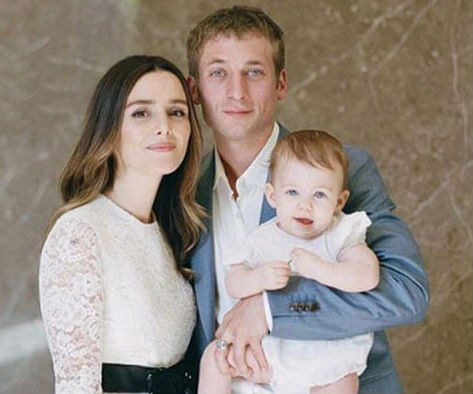 [ Jeremy Allen White & Addison Timlin wedding ]
Jeremy Allen White & Emma Greenwell
Jeremy dated the American-British actress Emma Greenwell (known for playing Mary Cox in "The Path", Myfanwy Thomas in "The Rook") from October 2011 till May 2017 (some sources say 2015).
Jeremy & Emma have appeared together in the TV series "Shameless". He played one of the main roles, she had a regular role in the series as Mandy Milkovich (from 2012 to 2016).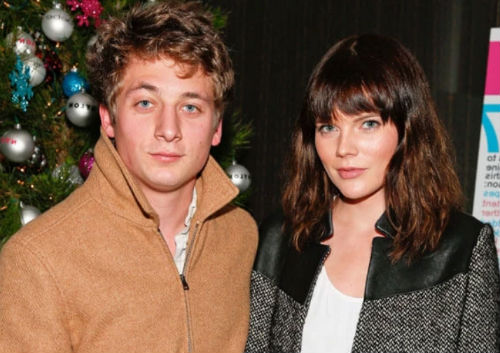 [ Jeremy Allen White with Emma Greenwell ]
Interesting Facts & Trivia
Dancing & Acting: Jeremy started as a dancer, with experience in Ballet, Jazz and Tap dancing. At the age of 13 he joined a dance course, at the age of 15 or 16 he got interested in acting and decided to switch to acting and give it a try. [2] About the switch, he says this - "I didn't like it (dance course) very much, so I thought I would give acting a try.. I had a wonderful acting teacher at the middle school who would send out kids he felt very passionate about on cattle calls for film, theater and commercial". His teacher would research for jobs on Backstage.com and send his students' profile for job opportunities. Jeremy is very thankful for the opportunities his teacher got him.
Ancestry: Jeremy is of English, Dutch, German, Northern Irish, Scottish, Scots-Irish ancestry.

His paternal grandmother (Ellen Vasilivna Lisovitch) is of Ukrainian descent.

William H Macy gave advice to Jeremy like 'Know your lines'.
A Lion King fan: Has watched Lion king more than 4 times at the theaters, not just him, he made his parents watch it with him too. He also got it on the VHS and watched it all the time. [2]
Weird dance moves: Jeremy likes going out with friends for dancing, he likes to break out of old movies and does some weird-tap thing when the tempo changes, his friends usually make fun of him for that [2]
An avid music fan: Jeremy loves music, especially the country music and blues. He likes Delta Blues. He was inspired by the music of Tammy Wynette and asked the producers to get a few tracks into one of his movies. Sam Cooke, Otis Redding, Muddy Waters are among his other musical inspirations. [3]
Questions & Answers
What is the most shameless thing Jeremy Allen White has done?

"I have definitely had people write essays for me" said Jeremy, when asked by a College Magazine journalist during an interview (the page seems to be deleted now)
Career
You Can't Win
Michael Pitt, the lead actor who plays Jack in the movie met Jeremy through some mutual friend they had. During a casual event Michael told him about the movie that he was making (as a producer), Jeremy went home and read the first chapters of the book (the movie is based on), couple of weeks later he was confirmed for the role and Jeremy read the book completely on hearing that.
Shameless
Jeremy was just out of High school when he auditioned for a role in shameless. He auditioned for both the roles of- Lip Gallagher and Ian Gallagher (the yare brothers on the show). He got selected to play Lip Gallagher on "Shameless".
Lip Gallagher is the second child of the Gallagher clan. He is an intelligent youth that has various schemes to make money, often involving ripping people off, schemes that border on illegal and sometimes even illegal.
Frank Gallagher, a single father of six children is played by William H. Macy. Emmy Rossum plays Fiona Gallagher his oldest daughter. Cameron Monaghan plays Ian Gallagher, the third Gallagher child (who is later found to be Frank's brother's son in a DNA test). Emma Kenney plays Debbie Gallagher, a loving sister who covers for her older reckless siblings. Ethan Cutkosky plays Carl Gallagher, he often gets into trouble at the school for his tempers.
He doesn't always watch "Shameless", he generally doesn't watch it, if at all he watches it is after some time of the episode airing. He usually watches his characters with pen and paper & makes notes about his performance.
He got nominated for his role on the show at the 2014 Critics' Choice Television Awards in the Best supporting actor category.
Once he was recognized by a fan while walking on the streets of Los Angeles with a friend. The fan approached him and congratulated him for the good for on the show. On being recognized by the fans in the public, Jeremy says- "I'm not very much out there, but I definitely get approached on the street, and everyone's always very kind"
Filmography
Movies List
| Year | Movie | Character | Comment |
| --- | --- | --- | --- |
| | You Can't Win | Smiler | |
| 2020 | The Rental | | |
| | Viena and the Fantomes | Freddy | |
| 2018 | After Everything | Elliot | |
| 2014 | Rob the Mob | Robert Uva | |
| 2013 | Bad Turn Worse | Bobby | |
| 2013 | Movie 43 | Kevin | |
| 2012 | The Time Being | Gus | |
| 2010 | Twelve | Charlie | |
| 2008 | Afterschool | Dave | |
| 2007 | The Speed of Life | Sammer | |
| 2006 | Beautiful Ohio | Young Clive | |
TV Series List
| Year | Series | Character | Comment |
| --- | --- | --- | --- |
| 2011-2020 | Shameless | Lip Gallagher | Main Role; 120+ episodes |
| 2018 | Homecoming | Joseph Shrier | Mandatory, Pineapple, Optics, Helping (Season 1 Episode 1-3, 5) |
| 2010 | Law & Order: Special Victims Unit | Michael Parisi | Torch (Season 11 Episode 21 |
| 2007-2008 | Law & Order | Andy Steel | Melting Pot, Driven (Season 17 Episode 15, Season 18 Episode 5) |
| 2006 | Conviction | Jack Phelps | Deliverance (Season 1 Episode 10) |
Short movies List
| Year | Short movies | Character | Comment |
| --- | --- | --- | --- |
| 2018 | Cornflower | Ladle | |
| 2017 | Chasing You | Ben | |
| 2017 | Heaven | | |
| 2009 | Gloria & Eric | Eric | |
| 2008 | The Fourth | Ryan | also the writer & executive producer |
| 2007 | Aquarium | David | |
Awards
| Year | Won? | Award | Project | Category | Comments |
| --- | --- | --- | --- | --- | --- |
| 2014 | Nomination | Critics' Choice TV Awards | Shameless | Best Supporting Actor (Comedy Series) | |
| 2014 | Nomination | Television Award of the Online Film & Television Association | Shameless | Best Supporting Actor (comedy series) | |
Quotes
In order to grow up a strong man, I think you really need to have a good childhood [3]
Sources
Bullet Media Interview (May 17, 2013 article by Jason Lamphier; link dead)