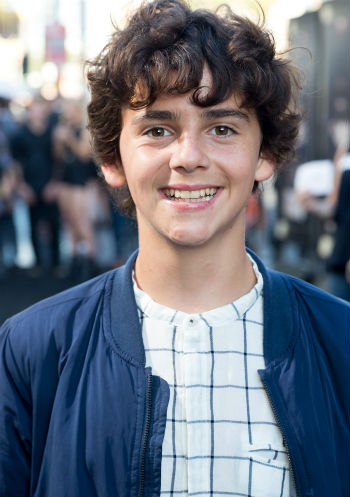 Jack Dylan Grazer
| | |
| --- | --- |
| Date Of Birth | September 3, 2003 |
| Age | 19 years 9 months 2 days |
| Day of Birth | Wednesday |
| Place Of Birth | Los Angeles, California, United States |
| Zodiac Sign | Virgo |
| Profession | Actor |
| Other Name | Jack Grazer |
Personal Information
Religion
Christianity
Language
English
Star Sign
Virgo
Nationality
American
Ethnicity
Caucasian
Complexion
White
Famous For
Me, Myself & I(2017)

Body Features & Measurements
Height
168 (2019) CM
5 Feet 6 Inches
Eye color
Brown
Hair color
Black
Weight
57 (2017) KG
126 lbs

Family Information
Father
Gavin Grazer (born in 1956; Actor/ Director)
Mother

Angela Lafever

Cousins
Patrick Grazer (paternal)
Sage Grazer(1988)
Sage Grazer (paternal)
Thomas Costa Grazer (paternal)
Patrick Grazer(2004)
Riley Grazer(1986)
Riley Grazer (paternal)
Thomas Grazer(1999)
Uncle
Brian Thomas Grazer (paternal; born in 1951)
Grandfather
Thomas Grazer (paternal)
Grandmother
Arlene Becker Grazer (paternal)
Aunt
Nora Beth Grazer (paternal; born in 1952)
Stepmother
Jana Thompson

Love, Romance, Marriage
Girlfriend
Ellie Hiyar (Ex; 2017-2018)
Career Information
Debut (Movie)
Tales of Halloween(2015)
Years Active
2016-
Debut (TV)
The Greatest Event in Television History(2014)
Salary
$150,000 (for Shazam (2019))
Favorites, Hobbies, Likes/ Dislikes
Hobbies
surfing
Writing
Kempo
Likes
Boogie boarding
surfing
Writing
Skateboarding
Social Networks, Web links
Twitter Profile
Jack Dylan Grazer Twitter Profile
Instagram Profile
Jack Dylan Grazer Instagram Profile
YouTube Channel
Jack Dylan Grazer YouTube Channel
Snapchat
jdgrazer
Contact
Talent Agent
Tanguay Talent
Fan Mail
Tanguay Talent and Entertainment 2223 Virginia Avenue,Suite 1 Santa Monica, CA 90404 United States
More Information
Friend
Finn Wolfhard
Net worth

$500,000
Biography
Jack Dylan Grazer is an American actor who has appeared as a child artist in number of movies and notably in It(2017) (a movie version of the Novel by Stephen King). His other noteworthy appearances include- Alex Riley in "Me, Myself, and I", Freddy Freeman in Shazam!.(2019)
Childhood- Family
Jack Dylan Grazer was born on September 3, 2003 in Los Angeles, California to Gavin Grazer(Father) & Angela Lafever(Mother) in a family with background in film production.
Image: Jack Dylan Grazer childhood photo
Father
Jack's father Gavin Grazer is an actor/ director/ writer and producer. Gavin Grazer was born on 16th November 1961 in Los Angeles, California to Thomas Grazer (criminal defense attorney) & Arlene Becker Grazer. He is known for his roles in- "The World's Fastest Indian", "American Gangster", "How the Grinch Stole Christmas" among others.
Gavin married actress & producer Jana Thompson on 1st August 2009.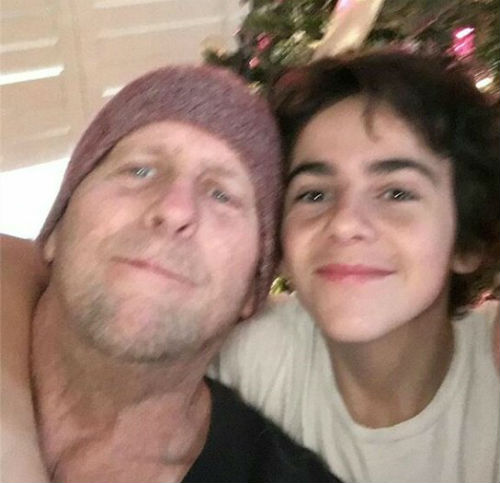 [ Jack Dylan Grazer with father Gavin Grazer ]
Mother
Angela Lafever is Jack's mother. She tweeted him this message for his 15th birthday "You, my love, are an answered prayer. May you stay the course, true to your heart, loving, courageous, kind and grateful. Creative spirit, as you grow... keep reaching, and always be true, be you ... the light that you are is bright....a light unto the world. Happy 15th Birthday to my beloved son, the light of my life"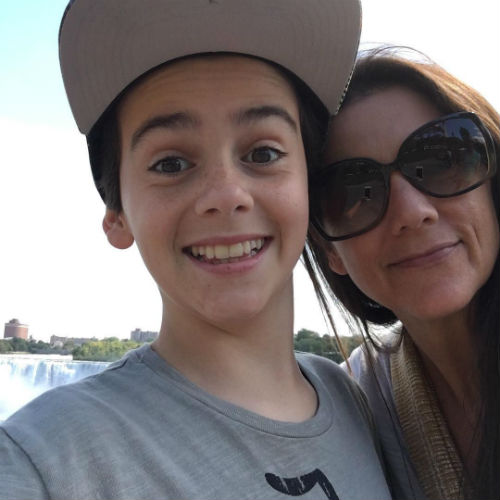 Image: Jack Dylan Grazer with his Mom Angela LaFever
Uncle
Jack's paternal uncle- Brian Grazer. is a Oscar award winning producer with more than 150 credits to his name.
Jack's cousins through his uncle are:
Riley Grazer (born in 1986)
Sage Grazer (born in 1988)
Thomas Costa Grazer (born in 1999)
Patrick Grazer(2004)
Patrick and Jack have live streamed on instagram together at times.
Education
ARTE program: Jack has performed multiple times on invitation with the Adderley Repertory Theatre Ensemble at "The Adderley School For The Performing Arts" in California. He said this about the school- "The Adderley School gave me roots on the stage and wings to fly and find my voice as an actor. I am living my passion and my dream because of the Adderley."
Girlfriend - Dating
Jack Dylan Grazer & Emmy Perry
Jack is rumored to be dating his "Scales: A Mermaids Tale" co-star Emmy Perry (She is also known for "Kismet", "26 Candles"), they were spotted together by the paparazzi at times and they have been romantically linked. Jack has been posting their pics on his instagram post
[ Jack Dylan Grazer & Emmy Perry ]
Jack Dylan Grazer & Ellie Hiyar
Jack previously dated (from 2017 to 2018) his high school mate Ellie Hiyar, she has a huge following on instagram herself. There was a controversy of him cheating on her with another girl, but Jack clarified that it was impossible. She has been dating other people after the breakup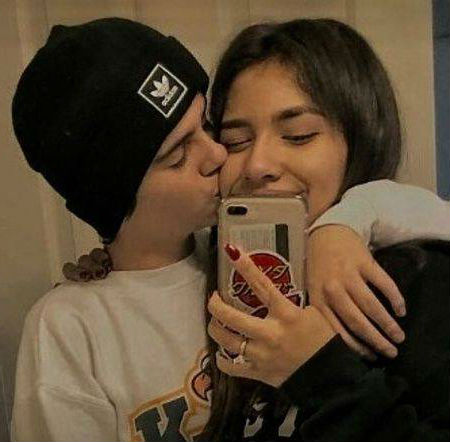 [ Jack Dylan Grazer & Ellie Hiyar ]
Interesting Facts
Ancestry: Jack is of- English, French, German, Irish, Latvian Jewish, Russian Jewish descent. Jack's paternal grandmother is of Russian/ Latvian Jewish descent. His grandfather of German & Irish descent. [2]
His father is of half Jewish descent.
Jack's first Commercial appearance was on the ad for "Scales: Mermaids Are Real" (he played "Adam" in the movie)
He has huge following on Instagram.
Politics: He doesn't like US president Donald Trump
Family is Family: He undertook a project "Family is Family" in school which won the best documentary award
Creative kid: Jack has shot many videos with friends & has published them online.
Things Jack Loves to do: [3]

Boogie boarding
Script Writing
Skateboarding
Shooting films
Surfing

Some of the brands/ labels he has promoted/ appeared in commercials for are:

Dull Boy
Halo Top Creamery
Loree Rodkin (Jewelry designer)

Stomp Out Bullying: Jack has supported the movement- "Stomp Out Bullying" against bullying.
Jack wishes to get involved with Acting/ Writing/ Directing & Producing movies as he grows up.
Stand UP And Go BLUE: He supported the movement of wearing blue to raise awareness on bullying and stopping bullying
Painted fingernails: He showed his painted fingernails to fans on a live stream, it freaked a fan. Jack thinks it is cool (we do too). He has had his nails painted thrice.
Is Jack Dylan Grazer Gay?

Jack was seen wearing colored fingernails, kissing friend Finn, but he is not Gay. He has had girlfriends in the past.

Controversy

Infidelity & Natalia Jauregui: Natalia Jauregui accused Jack of having a relationship with while he was dating Ellie Hiyar. Jack made a video explaining it was impossible to be dating her as he had never met her in real life, it was only a snapchat acquaintance.

Set schooling: He doesn't attend regular school because of acting, he however reads on sets.
"Good Mythical Morning" Obsessed: As a young kid he had been obsessed with the youtube show "Good Mythical Morning"
He is a huge fan of Jeff Garlin, he has watched "Curb your enthusiasm", "Daddy day care" and others by the actor. [8]
Flute player: He plays his flute beautifully.
Weed Smoking controversy
Jack was smoking weed on the sets and blowing out the smoke in rings, he was just 14 at the time, the video went viral and attracted lots of criticism for underage smoking. He apologized for the act.
Youtube channel
Jack has a youtube channel of his own where he often posts videos of him playing instruments, interviewing people or goofing with friends.
Funny side of his personality is very addictive.
Jack Dylan Grazer and Finn Wolfhard
Jack & Finn have been great friends since they met on the sets of IT. They have been seen goofing and partying together. Finn was seen with Jack in that controversial weed smoking video too.
"I Love Finn" said Jack during the IT promotions.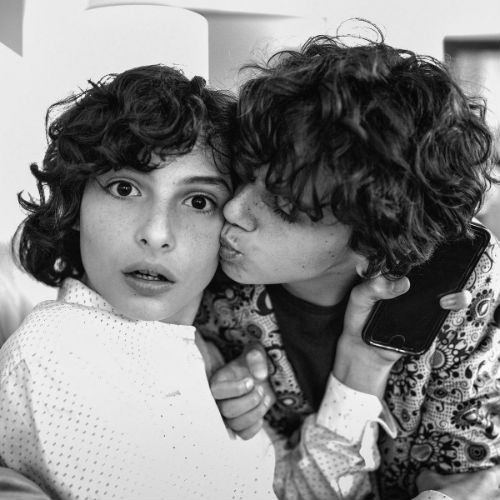 [ Jack Dylan Grazer and Finn Wolfhard ]
Career
IT (2017)
Jack's first movie breakthrough was in the horror film- "It" based on the novel by Stephen King. It was directed by Andy Muschietti. Jack was in one of the main roles along with co-stars- Jaeden Martell, Jeremy Ray Taylor, Sophia Lillis, Finn Wolfhard, Chosen Jacobs.
"It" was a story about the disappearance of the local kids one by one linked to an evil clown. A group of kids take n the evil clown and kill him.
His role as Eddie was much appreciated. It rose to the top of Box Office quickly on its release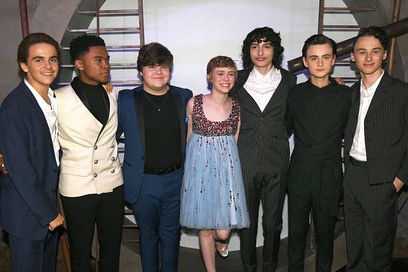 [ Jack Dylan Grazer with IT cast ]
Filmography
Movies List
| Year | Movie | Character | Comments |
| --- | --- | --- | --- |
| 2022 | (Shazam! Sequel) | Freddy Freeman | |
| | Don't Tell a Soul | Joey | |
| 2019 | It Chapter Two | (Young) Eddie Kaspbrak | |
| 2019 | Shazam! | Freddy Freeman | |
| 2018 | Beautiful Boy | Nic Sheff | |
| 2017 | It | Eddie Kaspbrak | |
| 2017 | Scales: A Mermaids Tale | Adam | |
| 2015 | Tales of Halloween | Stranger | |
TV Series List
| Year | Movie | Character | Comments |
| --- | --- | --- | --- |
| 2020 | We Are Who We Are | | Main Role |
| 2018 | Camp Confessions | | |
| 2017-2018 | Me, Myself and I | young Alex | Main role; all 13 episodes |
| 2018 | Speechless | Rev | E-I-- EIGHTEEN (Season 2 Episode 14) |
| 2017 | Movie Trivia Schmoedown | Jack of all Trades | "Wolves of Steel Vs Josh Macuga & Teammate", "The "It" Losers Club" ( Season 4 Episode 71, 73), |
| 2015 | Comedy Bang! Bang! | Kayden Aukerman | "Jesse Tyler Ferguson Wears a Brown Checked Shirt and Stripey Socks" (Season 4 Episode 8) |
| 2014 | "The Greatest Event in Television History" | son | Bosom Buddies ( Season 1 Episode 4) |
Awards
| Year | Won? | Award | Project | Category | Comments |
| --- | --- | --- | --- | --- | --- |
| 2018 | Won | MTV Movie Awards | It | Best On-Screen Team | |
| 2017 | Nomination | MTV Movie Awards | It | Best Supporting Actor | |
News & Updates
He was interviewed by Hero mag in September 2019
Covered on the "Seventeen Mx" cover page in September 2019
Quotes
A human being is a part of the whole called by us universe, a part limited in time and space. He experiences himself, his thoughts and feeling as something separated from the rest, a kind of optical delusion of his consciousness. This delusion is a kind of prison for us, restricting us to our personal desires and to affection for a few persons nearest to us. Our task must be to free ourselves from this prison by widening our circle of compassion to embrace all living creatures and the whole of nature in its beauty [5]
Sources
[7] [around 10 minutes]